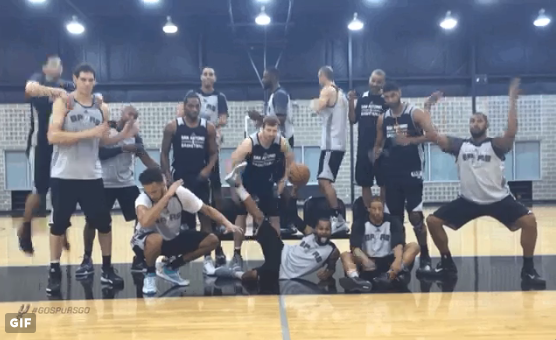 San Antonio Spurs/Twitter
Breaking it down.
When they write the story of the 2015-2016 San Antonio Spurs, this is the image they'll use to tell the tale:
There's a lot going on in that GIF. Perhaps too much. To make it easier on you, we've watched the tape, analyzed it and broken down each Spur's moves. Here's what they've got going on, moving from left to right:
Danny Green:
Green is jumping on Boban Marjanovic's shoulders. In this position, they may combine to be 8 feet tall. I'm surprised Pop hasn't used this technique in games yet — if Green can't put the ball in the hoop, he might as well be 8 feet tall.
Boban Marjanovic:
Marjanovic is allowing Green to jump on his shoulders, and generally being enormous. There is some kind of hand motion happening, too, which is probably some sort of Serbian jazz hands.
David West:
West is
almost
doing the robot. More like the Tin Man. He just looks creaky. I want to give him something for his joint paint.
Kyle Anderson:
Anderson is dabbing. This makes sense, because he is 22 years old.
LaMarcus Aldridge:
Aldridge is pulling some sort of peek-a-boo maneuver in tandem with Kawhi Leonard and Kevin Martin. Aldridge is the star of the show here, but what he's doing wouldn't be possible without support from Leonard and Martin. Teamwork. Spurswork.
Kawhi Leonard:
As part of the aforementioned Aldridge-Martin-Leonard Triumvirate of Terror, Leonard dips down and and crosses his arms. Though if we know anything about Leonard, he was probably just trying to get out of the picture and avoid the attention as quickly as possible.
Kevin Martin:
Martin is posing for the cover of his hip-hop supergroup album from 1992.
Matt Bonner:
Bonner's acting like a gorilla, or some other kind of great ape. It's not realistic or fair for us to think we could accurately assess what kind of monkey he's imitating from the evidence at hand.
Jonathan Simmons:
Simmons rotates and does something with his hands. I guess that could describe most any dance move known to man, but I don't know the names of many dance moves. I don't know anything these kids are doing these days.
Patty Mills:
This is the role Mills was born for. Pump fake, full extension on his leg lift, tongue out like a
Maori warrior
(yes, I know Mills is Australian, don't send me emails). Patty's putting it all together here.
Manu Ginobili:
Ginobili's just doing his thing — knees bent, index fingers at full extension, it's purely fundamental. I kind of imagine he thought those were super slick dance moves, too. Plop Ginobili on any dance floor anywhere in the world, he's doing the same thing. He is a dad, and that's never been clearer than now.
Tony Parker:
I don't know what Parker is doing. I think he may not have been sure that he was on video.
Andre Miller:
Miller is either tying or untying his shoes. This makes sense, because Miller's too old for this. He's got no time for childish names. He's got to get in the cold tub, hit up Luby's before 4:35 and then make it home in time for
Matlock
or his whole evening is ruined.
Tim Duncan:
Duncan is doing the robot, which is perfect. By the time Duncan is inducted into the Hall of Fame, all inductees will have their own holograms. This will be Duncan's, it will be the best.
Boris Diaw:
There are no words for the maneuver Diaw's performing here, but he's obviously the winner of this GIF. This was predictable. The guy who
goes on safari
and has
an espresso machine in his locker
should also be the best dancer. It's only a matter of time before he's in Dos Equis commercials.
All in all, a near-perfect effort by the Spurs. The only element it's missing is Coach Popovich doing the Dougie. Maybe next year.