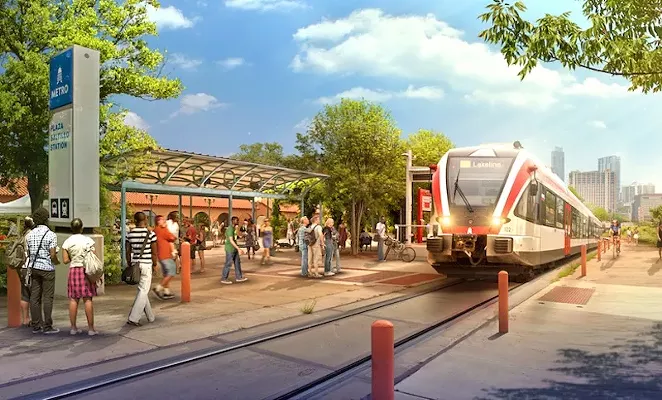 Courtesy
Two decades in the making: Will the dreadful SA-Austin I-35 commute be alleviated with a new rail line?
Last week, the Lone Star Rail District
went on the offensive two months
after Union Pacific announced it wouldn't participate in a proposal to use its tracks for a commuter rail between San Antonio and Austin.
On Friday, the district's board was called for a special meeting where they were presented with four alternatives to the previous plan, which is dead in its tracks. At the meeting, the board voted to continue the environmental study, which could enable future funding.
"Our regional mobility challenges are growing and the purpose of and need for Lone Star Rail are still front and center," Joe Black, deputy executive director for the Rail District, says in a press release. "The recent decisions of Union Pacific do not change the need for a congestion-proof alternative to Interstate 35 in Central and South Texas."
The alternatives all involve the I-35 corridor and include: "the SH130 corridor, the abandoned MoKan rail alignment, and new right-of-way parallel to the Union Pacific mainline, as well as hybrids of these options."
According to the Lone Star Rail District, the project is halfway through the implementation process. It expects the environmental study to be completed by 2018.
"We remain committed to our mission to provide reliable, predictable and safe regional transportation," Black says. "Over the next few months, we will continue to engage with our stakeholders and work cooperatively with our transportation partners to keep moving the project forward."
Here's a slideshow with more detailed information on the alternatives: