While, obviously, there are thousands of great places to rent and live in the Alamo City, let's face it, some places definitely give you more bang for your buck. A quick search on Zillow gives you an overwhelming amount of options, with $1,000 giving you 3 bedrooms here or a single studio apartment there. So in the name of curiosity, and a slight obsession with HGTV, we found some cool places to live in San Antonio for under $1,000 a month.
The Flats at Big Tex, E3, 423 Blue Star
Studio, 1 bath, 558 sqft
$990+/mo
Right on the river in Southtown, this amenity-driven apartment complex is close to all the best of downtown living. Just a short walking distance from the Blue Star Art gallery, shops, restaurants and bars, this location is absolutely ideal, though what you can get for under 1K in these studio apartments is, like the square footage — limited.
HemisView Village A1, 401 Santos St.
1 bed, 1 bath, 684 sqft
$942+/mo
In case Southtown isn't close enough to the Tower of the Americas for the puro San Antonian, this listing is a few blocks walk away from Hemisfair Park. With state-of-the-art interior and exterior amenities, this new addition to SA's downtown living scene seems to be more worth its size.
216 Arcadia Pl
1 bed, 1 bath, 885 sqft
$820/mo
Right across the street from the Terrell Hills Fire Department— bonus safety benefits— these apartments' great family location seems prime for the price, low for the relatively grandiose neighborhood. Think about it like this, if we did the math right, for a $10/hr, 40 hour a week job, you'd be done paying rent in just over 2 weeks.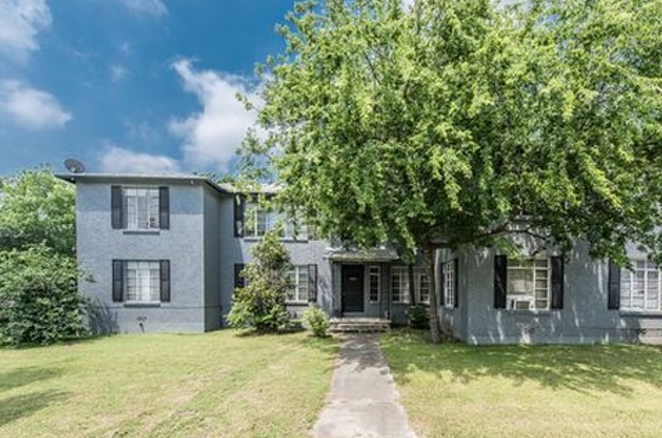 7307 Broadway
2 bed, 1 bath, 12oo sqft
$915/mo
Who knew Alamo Heights is where the deals would be? The only 2 bedroom deal so far, this listing, located in the middle of Alamo Heights near Lincoln Heights, H-E-B and the Quarry, boasts hardwood floors and a quiet environment that allows pets of all sizes.
337 E. Lullwood Ave.
1 bed, 1 bath, 810 sqft
$825/mo
Located in Monte Vista, just south of Olmos Park extravagance, this relatively spacious listing is nearby to the Landa Library, Trinity University, and quaint Olmos Pharmacy. With a large living area and kitchen, this under-1K apartment definitely gives some 'bing', if not quite bang, for your buck.
Melia Apartment Homes, Royal, 3431 Oakdale St
3 beds, 2 baths, 1304 sqft
$995+/mo
For those who are looking for
real
deals, anything too close to downtown is pretty much out of the question. But, as San Antonians know, it takes about 15 minutes to get just about anywhere in the city, so even if you live outside of 410 you're never too far from the main attractions. This listing, located in the Medical District, features the best of under 1K living with recent renovations and the ultimate prize: free Wi-Fi.
So get searching, San Antonio, find your inner House Hunter and see whether or not you can squeeze some crown molding, hardwood floors and stainless steel appliances out of $1,000 bucks a month.