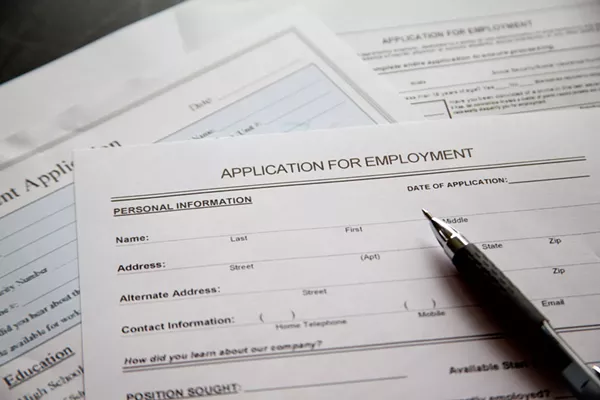 flazingo photos via flickr creative commons
When District 4 Councilman Rey Saldaña campaigned for reelection in 2013, he kept running into the same roadblock: Many of his Southwest Side constituents couldn't legally vote for him.
"I would knock on people's doors with my campaign speech and they'd interrupt me — 'No, I literally I can't vote. I have a felony charge,'" Saldaña said. "That's when it hit me."
Although he can't overturn the state law that bars felons from voting until they complete probation (a process that can take years), Saldaña has found another way to help people who are trying to get their lives back on track. On Wednesday, the City Council Governance Committee approved Saldaña's proposal to scratch questions about a person's criminal history from city job applications.
Called the "Fair Chance Hiring Ordinance," the switch aims to eliminate any discrimination of qualified job applicants because of their criminal past — and encourage ex-offenders to apply for city jobs. Only after applicants are offered a job do they have to go through the city's mandatory criminal background check.
Saldaña said he knows many San Antonians with a criminal record, including members of his own family, who've been discouraged after constantly turning in job applications and never getting a call back. "They're going into the process with a weight around their ankle," Saldaña told us.
"At it's core, this is a social justice issue associated with access to employment," he continued. "We have a system that punishes people for committing a crime, but there should be an end point to that punishment. Instead, they continue to pay the price."
Saldaña hopes this decision will open more doors for the city's low-income people of color, a population with a disproportionally high rate of incarceration.
However, some studies have found that "ban the box" (referring to the box on job applications people must check if they have a criminal record) might actually exacerbate racial biases in hiring practices.
Researchers at University of Michigan and Princeton discovered
that by leaving criminal-background question off the initial job application, hiring staff was just more likely to assume people with black- and brown-sounding names had a criminal past.
The ordinance went into affect immediately, making San Antonio the fourth major city in Texas to pass a ban-the-box law. Dallas, Austin and Houston have all passed similar ordinances in the past decade. Last year, the Texas House voted to pull the criminal history question from state job applications — but the bill died in Senate.
Saldaña said his work is only half done. Next, the councilman is working with local business owners to encourage a city-wide ban-the-box rule that goes beyond the public sector — something
Austin mandated this past March
. Some larger chains, like Walmart and Starbucks, already have company-wide ban-the-box rules. Saldaña hopes he can have representatives from those larger organizations convince smaller businesses that throwing out the criminal record question only helps them glean more qualified applications from the community.
"All we're doing is helping our community members to get back into society, find a way to contribute," he said. "It shouldn't have to be this hard."