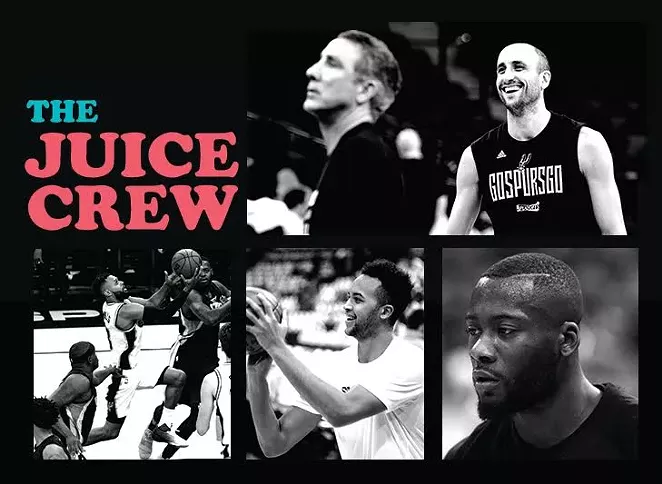 When it comes to NBA playoff basketball, it's all about the superstars. San Antonio's first-round series against the Memphis Grizzlies was defined by the ascendance of Kawhi Leonard to A-list status, but no man is an island, even if he happens to be named after one. The Spurs leaned heavily on Leonard to crack the 60-win plateau this season, but in Tim Duncan's absence, it was truly a team effort that included strong contributions from a diverse group of reserves referred to simply as "the Juice Crew."
The origins of San Antonio's Juice Crew can be traced back to 2015 in Las Vegas when Spurs Assistant Coach Becky Hammon led the franchise to the Summer League title. During halftime of the tournament's penultimate game, Hammon implored her exhausted squad to "Bring the juice!" Kyle Anderson and Jonathon Simmons took their coach's favorite phrase to heart, with Anderson earning the league's Most Valuable Player award and Simmons taking home MVP honors in the championship game.
The trio joined the Spurs for the 2015-16 regular season, and apparently brought the juice with them. After losing key members of the 2014 title-winning Foreign Legion to free agency, San Antonio's bench was primed for a new identity. That it would invoke an influential East Coast hip-hop collective from the mid-'80s was a welcome surprise from what many outsiders generally describe as the most vanilla franchise in the league.
Best known for hip-hop icons Marley Marl, Biz Markie and Big Daddy Kane, the original Juice Crew took its name from pioneering DJ Mister Magic, aka Sir Juice. With producer Marley Marl manning the boards and lyricist MC Shan and Roxanne Shanté rocking the mic, the Queens collective forged its own path in the same borough that birthed Run DMC, Salt-N-Pepa, and LL Cool J.
Prior to the Juice Crew, the closest the Spurs had previously come to Queens was courtesy of the classic 2012 NBA playoff promo that expertly utilized Mobb Deep's infamous "Shook Ones (Part II)" to showcase San Antonio's no-nonsense game. Up until then, San Antonio's hip-hop pedigree consisted of Stephen Jackson's Port Arthur-infused rhymes and Tony Parker's forgotten turn as a chart-topping rapper in France.
"It's a word that is used especially for the bench guys to pick up the energy, to fill the energy," Patty Mills told Spurs correspondent Cayleigh Griffin earlier this season. "Obviously, we play a whole different style to what the first group does. It's our job. It's no secret that we gotta bring energy when coming off the bench so the word juice has that kind of feeling of intensity and an energy to it."
"You get those little things that get you through the year and it's something that's really brought us together as a team," added Mills. "It's good to see everyone buying into such a little thing but I think it goes a long way and everybody's having fun with it."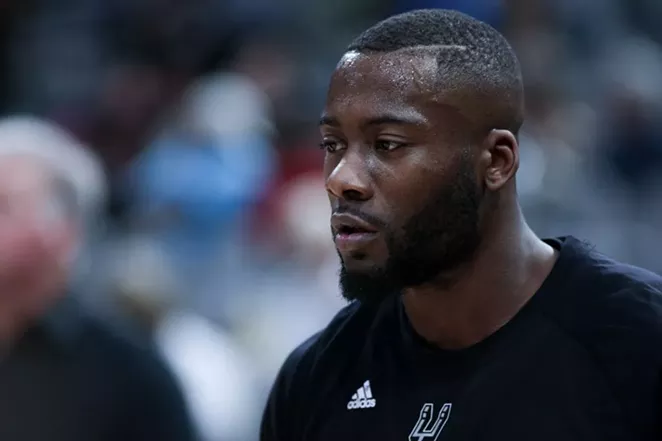 The Juice aka Sir Juice
One of the signature plays of San Antonio's young postseason came in Game 1 versus the Grizzlies. With the Spurs in the midst of a 29-point rout, Jonathon Simmons obliterated Wayne Selden's layup attempt with an emphatic chase-down block. For those watching from home, the play was punctuated by Spurs play-by-play announcer Bill Land bellowing, "The Juice not to be denied!"
Like Sir Juice before him, Simmons has become the physical embodiment of his spirited squad. A deft combination of speed and athleticism, Simmons plays with a hunger accumulated from reaching the NBA through the rigors of the D-League. Much like Mr. Magic reaching the masses on WBLS, The Juice is always in attack mode, on both sides of the hardwood.
Pat Stacks aka Marley Mills

As longtime Spurs loyalists can attest, postseason fortunes are known to swing on big shots from role players like Jaren Jackson, Steve Kerr, or Patty Mills, sometimes known in his tenure with the Portland Trailblazers as Pat Stacks. Similar to his backcourt running mate Manu Ginobili, Mills has become the conductor of the symphony for San Antonio's second unit, with a knack for hitting daggers from long distance.
The Marley Marl to Simmons' Sir Juice, Mills initiates the offense for the Juice Crew, setting the tone with frenetic yet rhythmic urgency. The Spurs were a remarkable 27-1 during the regular season when Mills scored in double figures. Additional appearances from Olympic level Patty Mills will be in order for San Antonio to advance beyond the Western Conference Semifinals.
Slow Mo aka Kyle G Rap

At first glance, Spurs swingman Kyle Anderson is the epitome of Cold Chillin', the Juice Crew's legendary record label from back in the day. The versatile forward plays with a tempered flow that earned him the nickname Slow Mo in middle school. Possessing handles and height, Anderson is one of the more cerebral members of the Juice Crew, often utilizing keen court vision to make plays.
A native New Yorker who was raised in New Jersey, Anderson has been known to shout out Jay Z and J. Cole for inspiration, and keeps new school acts like Frank Ocean and Migos in steady rotation. Relying heavily on his high basketball IQ, Anderson's appreciation for lyricism and East Coast roots recalls the legendary Kool G Rap who challenged fellow emcees to come correct with the pen.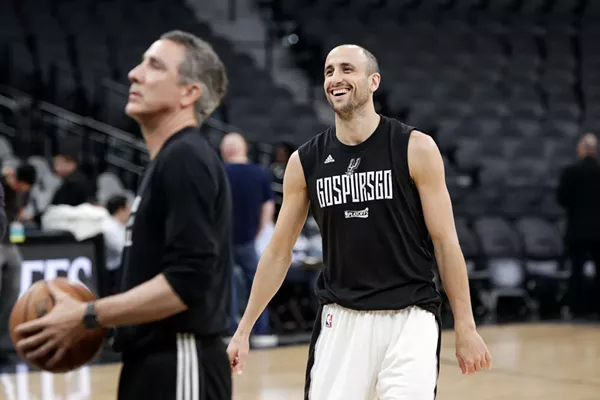 Manu aka Masta Ace

The most beloved Spur this side of Tim Duncan, Manu Ginobili has long been the ace up Coach Gregg Popovich's sleeve. Whether inserted into the starting lineup or coming off the bench, Ginobili in his prime was masterful. The Spurs wildcard was one vote shy of earning NBA Finals MVP in 2005, and has served as San Antonio's sparkplug through four championship runs.
Although Ginobili had a rough series against Memphis, going scoreless through the first four contests before breaking through in Game 5, his contributions are still vital for a deep playoff run. A bridge of continuity between the Foreign Legion and the Juice Crew, a rejuvenated Ginobili makes everyone around him better. Despite an uneven start to the playoffs, the competitive fire burns brightly for this future Hall of Famer and his Juice Crew cohorts.