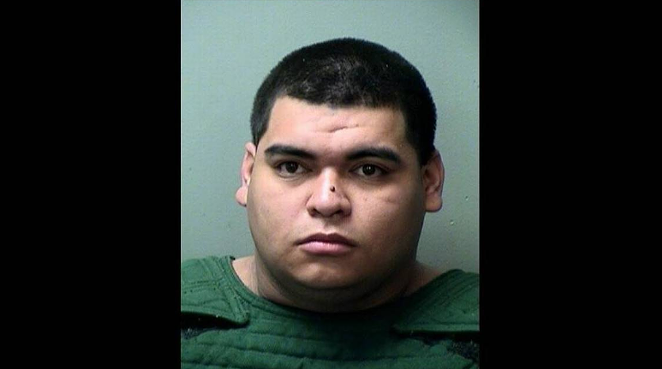 Fort Worth Police Department
Derrick Pete Silva, 21, was arrested on a capital murder warrant in the death of his girlfriend's 19-month-old baby.
A Fort Worth man was arrested on Feb. 1 after he admitted to fatally punching 19-month-old Armando Jose Soto in the head.
Police told the
Fort Worth Star-Telegram
that Derrick Pete Silva, 21, said he
punched his girlfriend's baby twice
in November 2017 because he was "frustrated."
The 16-year-old mother said she had been involved with Silva for
just two or three weeks
when her son died, according to Dallas' WFAA.
On Nov. 19, an ambulance responded to a call about the boy
having a seizure
, according to the
Star-Telegram
. WFAA reports that baby Armando was taken to a children's hospital where he underwent emergency surgery. The baby was placed in a coma but was
pronounced brain dead
and died two days later.
According to the arrest affidavit, the mother believed her son had fallen off a bed, but medical officials told police that Armando's
injuries were not consistent
with a short-distance fall.
Silva told Detective D.P. Jwanowski that he and his girlfriend were trying to get the baby to take a nap when she left the room, handing Silva a bottle to feed Armando. He told the detective that the
baby's crying "frustrated" him
. According to the
Star-Telegram
, Silva admitted to punching Armando
"really hard on the back of the head"
twice as the baby lay on his side. Silva went on to say that Armando's limbs began twitching, but that he left the room to watch TV and "calm down."
The
Star-Telegram
reports that a relative heard Armando's cries and
found the child on the floor
. The teen alerted Silva, who then carried the baby to the mother and said something was wrong.
The mother later told Jwanowski that Silva had told her baby
not to cry "like a little bitch"
because crying is for girls. The mother also told Jwanowski that Silva had threatened to take the baby to the hospital to
have his "pee pee" chopped off
if he didn't stop crying.
Silva was first arrested on Jan. 12 for suspicion of
sexual assault of a child under 17
due to his involvement with the teen mother, but was free on a $10,000 bond. The Tarrant County medical examiner's office then ruled Armando's death a homicide and a
capital murder warrant
was issued for Silva. As of Monday afternoon, Silva is still in Tarrant County Jail with bail set at $100,000, according to
jail records
.