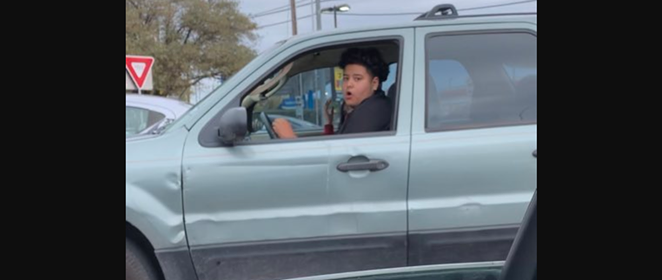 A local Twitter user is asking the city to help identify a man seen hitting a woman while driving this weekend.
Twitter user
@bzzaragoza50
, identified in his Twitter name as Bryan, took to social media to alert the community about a man he saw beating a woman, who he presumed was his girlfriend. Bryan wrote that he was stopped at a traffic light when he witnessed the assault.
Bryan also said he tried to stop the man, who then threatened to fight him. In a follow-up tweet, he said the suspect was filming himself punching the woman.
Presented with his photo, some Twitter users took the opportunity to roast the alleged assailant.
Others called out Bryan for not doing more to stop the incident. The Twitter user later clarified that he wanted to help the woman but hesitated since the person carrying out the assault had a gun.
Regardless, many Twitter users voiced their concern, saying they wanted to make sure the man is behind bars or faces some sort of consequence.
Anyone with information is encouraged to contact police.
Stay on top of San Antonio news and views. Sign up for our Weekly Headlines Newsletter.