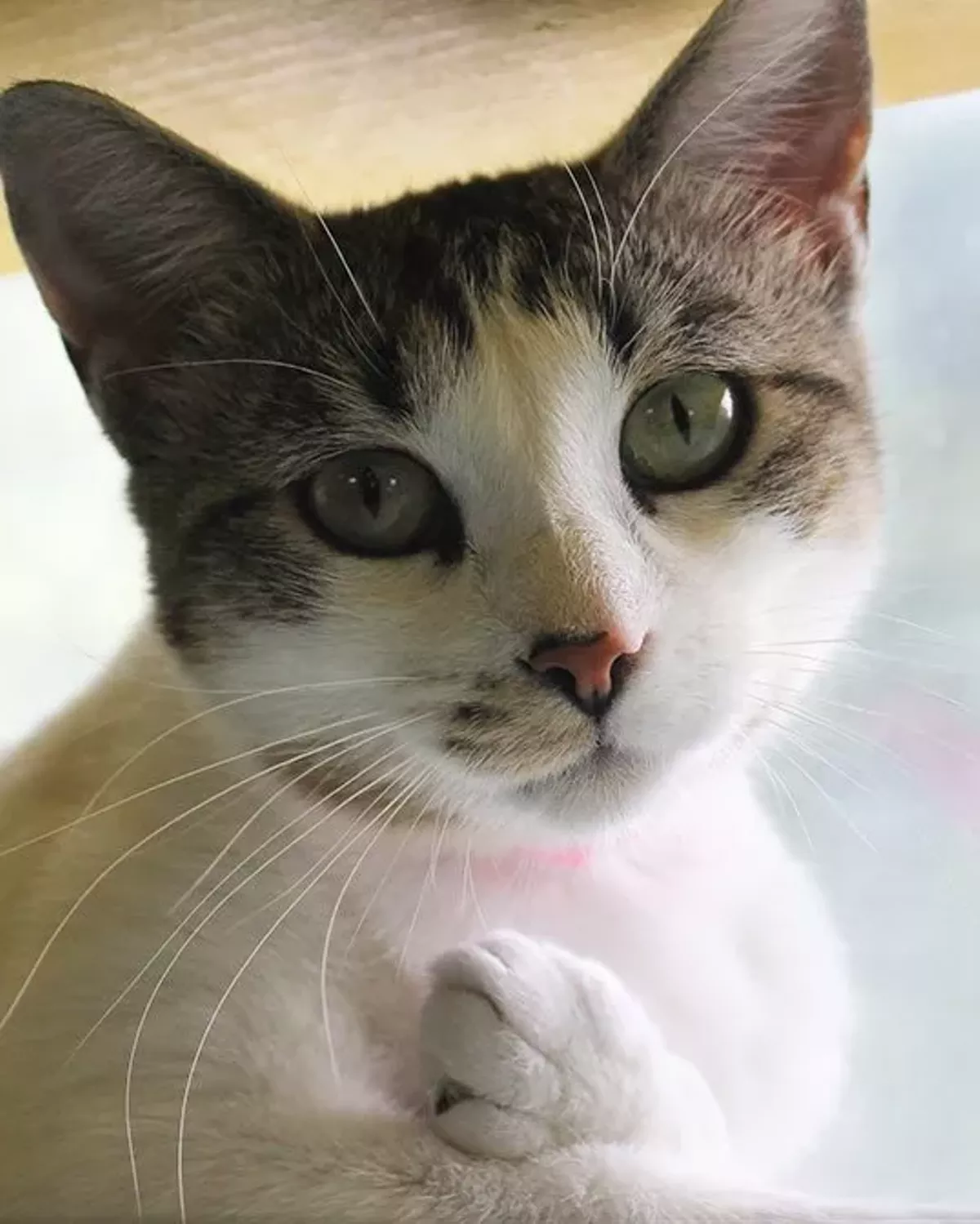 Izzy"It takes me a moment to not feel timid around new people I meet. Please know that I will eventually warm up to you and you'll see that I can be friendly. I just need to gain your trust first, so be gentle and approach me slowly when we first meet. I'm sometimes a little spicy but I promise that there is a sweet side to my spicy personality. I'd like to find a home where I'm the only feline in the household and where I can be loved forever."
Beauford
"I'm looking for that special person that will be patient with me. Someone who understands that I am shy and need some time to gain your trust. After I warm up to you, you'll see how sweet I can be. I'm more of an independent type of guy, so I'd prefer that my forever home does not have dogs. If you're looking for a furry friend that will quietly live with you but keep you company, then please consider giving me a chance."
Lilac
"I am a girl with a beautiful raven coat. It is very soft and I am learning more and more how nice it is to have it petted by a friendly person like you! I am not very used to people just yet, but the more I meet them the more I realize how kind and loving they can be. I have learned that having my ears and chin scratched are a good thing! I will need a quiet forever home with a patient family who is willing to help me learn what love and friendship is all about. If that sounds like you, please come and meet me today!"
Nikki
"I'm a relaxed and fairly calm tabby cat. Actually, I'm a bit lazy and can be found cat napping and quietly lounging around. I'm a friendly girl and enjoy being pet. Come by and visit me!"
Ginger Spice
"I'm a timid pretty girl who likes the high places around in the cattery. You can find me near the ceiling hanging out with my nice friends. I am new to the cattery and just need some time to adjust. I know all I need is a nice kind person to bring out my true personality. Come and spend some time with me to see how big my heart is."
Sassy
"So they call me Sassy, but I don't think I live up to may name too much. I am friendly with people. I'm still young, only 1 years old, so I have a lot of energy. I'm not usually interested in play time but I'm still an active feline! Please visit me in the cattery, and let's find out if you're the one who can provide me with a forever home. "
Reeses
"I'm a sweet little lady who likes to check things out in this place they call the ADL. I am very nice, but still a little fearful of the world around me. I would love a patient forever friend who is willing to love me and help me to gain courage and strength with each passing day. I will be a wonderful companion…I have a great purr and really love having my ears scratched! It's just a matter of finding my perfect match – maybe it's you?!?!"
Tango
"I won't immediately be prepared to Tango with you but please give me a chance. I'm a shy boy, so be gentle with me. Once I get to know you, my sweet side will come out. All I want is a home where I know I'll be okay and be loved. Wouldn't you like to have my handsome and sweet self hanging around your home? Come by and give me a chance and maybe soon we can tango together!"
Whispers
"I'm a playful kitty with a beautiful fluffy tortoiseshell coat. Don't let my serious stare fool you, I'm actually very friendly and sweet. You should visit me in the cattery to see for yourself. I'm searching for a forever home and hope that it can be with you!"
Kit Kat
"I adore attention from people but please approach me slowly when we first meet. I can sometimes be a little shy and I might hide. So be gentle with me. After I warm up to you, you will learn that I can be a cuddle bug and I'm sure you'll fall in love with me. So if you're looking for a sweet tabby friend who will cuddle with you, then I'm your gal!">