From Buttercup to Flaco, the music scene survives
Buttercup exemplified the best aspects of SA music over the last year. (Photo by Mark Greenberg)



San Antonio's music scene has spent so many years in Austin's shadow that even locals tend to forget its legacy. Consider it this way: There are places that grow great musicians, and places that nurture great musicians. Austin unquestionably fits in the latter category, but San Antonio can rightfully claim the former. Musicians move to Austin because they know they'll find receptive audiences, but how many of Austin's greats grew up there? Austin claims Alejandro Escovedo, but he was born in SA, and didn't move to Austin until he was well into his 30s, by which point, his musical aesthetic was well established. Austin throws a party every year for Doug Sahm, but his Tex-Mex synthesis grew out of his childhood on San Anto's East Side. Austin considers the Butthole Surfers its major contribution to '80s punk, but the band formed in SA at Trinity University. And we all know about Flaco Jimenez.

Best of SA 2005

---
Readers' picks - Best Music
Click here to see our readers' choices

Few products of this city demonstrate the unaffected grace of contemporary San Antonio music better than this year's choice for Best Instrumentalist: Joe Reyes. If it occasionally feels like Reyes plays in half the bands in town, it's only because this guitar virtuoso exerts such a powerful influence on everything that his plectrum touches. It's hard to decide what's more impressive, his effortless mastery of the instrument or the range of his stylistic fluency.

To many old fans, Reyes remains the flamenco player who made six albums with Sergio Lara, and earned a Grammy nomination for the 2000 release, World Jazz. Others know him for his work with the roots-rock band the Swindles. Some music aficionados surely recognize his name from the 2001 Freddy Fender album of traditional tunes, La Música de Baldemar Huerta, which Reyes helped to produce, earning him a Grammy for Best Latin Pop Album. And the local art crowd most strongly associates him with Buttercup and their spontaneous, theme-driven, Grackle Mundy happenings.

Reyes has managed to navigate these disparate courses because of his restless musical curiosity and commitment to creative growth. Many musicians with his jazz pedigree might have ignored the virtues of Buttercup or the Swindles, but for all his technical skill, Reyes never seems obsessed with technique. He understands the value of a well-crafted pop song as well as fiery jazz improvisations, and he knows what to bring to both.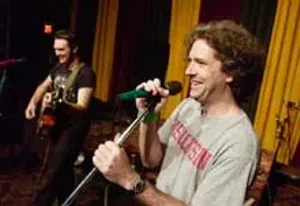 Eric Geyer (right) introduces musician Danny Conner during open mike night at Sam's Burger Joint. Geyer hosts the open mic night every Wednesday at Sam's. (Photo by Mark Greenberg)



His work with Buttercup never fails to amaze. Singer/guitarist Erik Sanden credits Reyes with helping that band make the leap from raw concept to fully realized art-pop collective. Whether the song calls for gravity-defying slide guitar ("John Glenn"), chiming delicacy ("Confirmation"), or Velvet Underground-inspired ferocity ("Downslide"), Reyes adds the essential icing. He never overplays, always looking to add texture that will call attention to the song, rather than to his playing.

As Reyes proved at Buttercup's recent SXSW showcase, his instrumental prowess is not limited to full-sized, six-string instruments, and also extends to miniature four-stringed axes. For "Johnny Appleseed," which Sanden sardonically called "our most rocking song," Reyes pulled out a ukulele and very nearly made Sanden's introduction accurate.

The SXSW show demonstrated why Buttercup is our choice for Best Rock Band. They're artsy but reliably self-deprecating; rocking but utterly devoid of chest-thumping machismo; and they view pop music as a broad canvas to be splashed with a wild mix of colors. From the raucous musical tourism of "In Spain" to the title song's ambivalent tale of being hounded by a beautiful stalker, their Sick Yellow Flower was the best local CD released over the last year.

Like Buttercup, Spettro - our choice for Best DJ - has done much to enhance awareness of this city's musical community. It's hardly a surprise, given his choice of genres.

The best house DJs are more than mere turntablists. By nature and necessity, they're ambassadors driven to spread the gospel of a frequently maligned and misunderstood form of dance music, one which commonly irritates dedicated hip-hop heads.

Spettro, a Dallas transplant born Eddie Scott, is the best kind of house ambassador. A teenage tennis phenom drawn to Big D's mid-'90s warehouse rave scene, Spettro was a dancer before he ever thought of manning the wheels of steel. As he explained last year in an interview with the Current, those gatherings amounted to a dance-floor Rainbow Coalition: "You had punkers there, hippies, all kinds of people. I was like, 'This is what I want to do.'"

Spettro came to San Antonio's St. Mary's University on an athletic scholarship, but his tennis career ended after he was kicked in the leg during a fight. Yet the setback encouraged him to buy his own set of turntables.

Even now, Spettro rapturously dances while working the turntables, often losing himself in the four-to-the-bar thump of house's signature bass-drum beat. His commitment to house has survived countless brushes with narrow-minded club denizens who demand hip-hop or dance-pop and show little patience for what they perceive to be fringe music. Spettro's first local gig, for a college party on the patio of Fatso's, resulted in what he recalls as a "really miserable experience," with irate dancers complaining about his choice of music. But even as Spettro has occasionally been forced to battle the tastes of his own adopted city, he's become a vaunted producer-for-hire and one of the most internationally respected DJs in house's close-knit family of believers.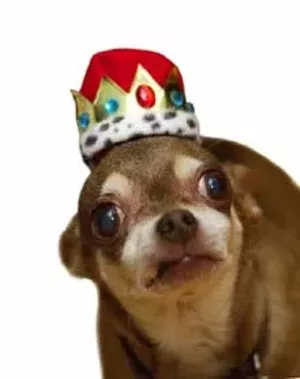 "Yo... Hey man, you know where I can get me a '51 Tele, with a Parsons/White B-Bender? I gotta get that Byrds and Buckaroo thing workin' man."



Hunkering down in his Pro Tools-based home studio for up to 80 hours a week, he's concocted music for indie labels such as Big Chief, Amenti, and Brique Rouge, and released collections such as Southern Boy and Alamo Funk EP.

In a city better known for cultivating hip-hop DJs (Jester, Klassen), Spettro is a stylistic anomaly, but it wouldn't be accurate to say that he's unloved in his own town. His gigs at The Davenport demonstrate that this ambassador of house does some of his most valuable work at home.

The same can be said for Eric Geyer, who hosts our choice for Best Open Mic. Every Wednesday at Sam's Burger Joint, Geyer provides a supportive environment for aspiring singer-songwriters. For years, he hosted Tuesday nights at the N. St. Mary's Brewing Company, until a fire decimated that local landmark. Two months later, he found a new home at Sam's, and the union has been a perfect fit. Geyer is a playwright and actor as well as a songwriter, and you can sense his fondness for the well-turned phrase at each of his open-mic nights. Best of all, he's a rare example of a former Austin musician who relocated to San Antonio. •